Volunteer
Volunteer with us!
Volunteering with StarVista is an excellent opportunity to learn more about yourself and receive valuable training while making an important contribution to your Community.
As a non-profit organization, StarVista depends on thousands of hours of volunteer work each year to serve our clients. All volunteer positions receive training and ongoing support from StarVista staff. We ask for a minimum 6 month commitment for most volunteer positions.
Below are several ongoing volunteer opportunities within StarVista. Other volunteer opportunities exist depending on volunteer skills and interest. Please contact us by telephone at (650) 591-9623 or by e-mail at karina.chapa@star-vista.org for more information, or if you would like to discuss volunteering in a capacity you do not see described below.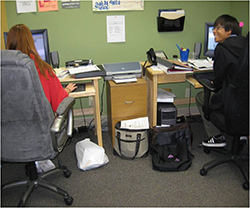 Crisis Intervention and Suicide Prevention Telephone Counselors StarVista's Crisis Intervention and Suicide Prevention Center offers counseling, support and referrals to callers 24 hours a day, seven days a week. Crisis Line volunteers may take calls from the Suicide Hotline, the Parent Support Line, and the Drug and Alcohol Helpline. Volunteers take calls from individuals dealing with issues that include: family stress, relationships, suicide, substance abuse, and mental illness. Counselors are fully trained by our professional staff before they volunteer.
Youth Volunteer Peer Counselor Our online chat room is part of a project established by StarVista's Crisis Center to offer support and information to young people through the website www.onyourmind.net. Peer Counselors are responsible for facilitating after-school chat room discussions on mental health-related topics as well as providing support, information, first-stage crisis intervention and referrals to peers through the chat room and website. For information on how to become a peer counselor, please visit www.onyourmind.net.
Be the lifeline for someone who needs help! There are hundreds of people in your area who are struggling with issues in their lives, but don't feel they have anyone to ask for help. If you are a good listener, have a passion for helping those in need, and can give just four hours a week, you can make a real difference by becoming a volunteer on StarVista's 24-hour crisis hotline! You must be at least 21, and are asked to commit to a minimum of 4 hours per week for one year; call us today at 650-591-9623 for more information about how you can help!
---
Download a Volunteer Application here: