StarVista and Pyramid Alternatives have merged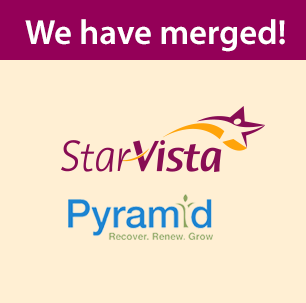 As of July 3, 2017, StarVista has merged with Pyramid Alternatives!
Pyramid Alternatives is a well-respected nonprofit organization, established in 1973, with offices in Pacifica, Daly City, San Bruno, South San Francisco, and San Mateo. StarVista and Pyramid Alternatives have a strong history of collaboration, including our Health Ambassador Program for Youth, the San Mateo County Pride Center, and a parallel portfolio of programs and services dedicated to providing high impact services to vulnerable populations in San Mateo County.
Sara Mitchell, CEO of StarVista shares, "I am delighted to deepen our longstanding partnership with Pyramid Alternatives and to continue our shared tradition of delivering high-quality services in the communities about whom we care so deeply.  Building on our strengths, expertise, and passion for this work, we are well positioned to strategically grow our newly expanded agency to have an even broader impact on those we serve."     
This merger draws on our shared expertise in counseling, recovery services, school-based services, and more. It will strengthen and strategically amplify our reach throughout San Mateo County, and in particular will expand StarVista's services to Coastside and North County communities.
In keeping with the spirit of our agency's values, including respect and partnership, our staff have been enthusiastically welcoming Pyramid Alternative's staff and programs into the StarVista family, to integrate Pyramid Alternatives into StarVista's programming. This will ensure a seamless transition for Pyramid clients as they continue to be served by StarVista.
Linda Malone, former Executive Director of Pyramid Alternatives shares, "We are so pleased that Pyramid Alternatives has joined the StarVista family. Pyramid Alternatives staff and clients have been warmly welcomed, and we are confident that our expanded infrastructure will allow us to continue to provide effective and client-centered services in the County."
We are so thrilled to share this exciting news and we look forward to keeping you informed in the coming months, as we fully incorporate Pyramid's effective and impactful programs at StarVista.
For more information, please see our Merger FAQ page, or contact:
Sara Larios Mitchell, CEO at 650-591-9623 x.112, smitchell@star-vista.org or Robin Rudikoff, Director of Development & Marketing at 650.591.9623 x.142, robin.rudikoff@star-vista.org.