Emma's Story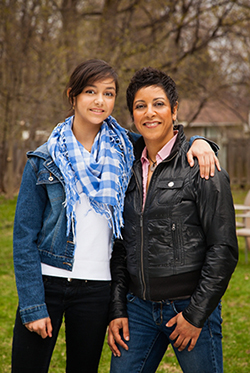 "You have saved our daughter Emma* from a path of destruction and given her hope for a healthy future. Thank you so much."
These words were written by a mom whose high-school aged daughter participated in StarVista's Insights adolescent substance abuse treatment program.
Emma's struggles became apparent to her parents the first time she attempted suicide in July 2008, after she experienced a traumatic rape. Emma spent that summer at an intensive outpatient program of a local hospital…and in September, attempted suicide for the second time.
"For the next 9 months, we sought help from a therapist, and Emma was also seeing a school psychologist. She was no longer suicidal but would self-medicate using various drugs and alcohol, was very depressed and would cut school regularly," recalls Emma's mom.
However, in the Fall of 2009, Emma began stealing from her mother to support her cocaine habit. It was then that her mom called Juvenile Hall, and asked if she and Emma could have a "tour."
"During our visit, the Probation Officer recommended Insights, and I cannot say enough about how it helped us. The drug education was very informative to Emma, her dad and me. One week a guest speaker told us how she lost her 14 year old sister to Ecstasy and that had a profound effect on Emma. We were both crying. I do not think she will ever touch Ecstasy again."
Thankfully, StarVista's Insights program has helped Emma overcome her challenges and turn her life around.
"Emma's dad and I have been down every road trying to get Emma the help she needs. We are not a wealthy family, and could no longer throw money at therapists who may or may not be able to help. We were so desperate, and when we turned to the juvenile court system, we had no idea that they would refer us to Insights, the only place that has been able to help our daughter. I am so impressed with your program: the people you help really feel cared for."
In addition to the Insights program, StarVista offers 22 varied programs that serve more than 31,000 individuals annually throughout San Mateo County with prevention, early intervention, education, home visiting for at-risk families with young children, crisis intervention, suicide prevention, youth development, residential services, mental health and substance abuse counseling. No one is turned away for lack of funds. All of our programs are free or offered on a sliding scale basis.