Insights Jennifer's Story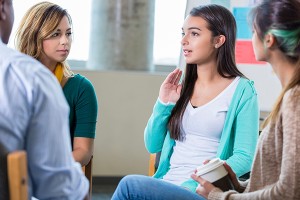 Jennifer's Story
When she was 17, Jennifer's probation officer mandated that she enroll at Insights, StarVista's program for youth who are struggling with alcohol or drug abuse. Jennifer successfully completed her mandated treatment over a 12 week period and chose to continue her therapeutic work voluntarily for the following three years.
She recently wrote this letter to her therapist and gave it to her.
Dear XXXXXX,
Thank you for always being here for me the past three years. You've been with me through some of the most difficult times in my life and were the only person I could really talk to. Thank you for going to visit me in juvenile hall, and continuing to help me through that – even showing up at my court date. That meant a lot to me back then, and still does. Thank you for listening to my stupid stories, and not judging me. Thank you for letting me cry in your office. Thank you for giving me a place to share my honest feelings when I had no place else to do that. Thank you for being the best friend I've had these past few years. Even though I only saw you for an hour every week – every other week – even once a month – that hour helped me more than you could imagine. I am thankful for being forced into Insights, because I met you and you made me want to keep coming back. I really cannot thank you enough, XXXXX. I don't know where I'd be today if I didn't meet you. Although I am growing and moving on, I would like to stay in touch, if not by appointment, as friends.
Love,
Jennifer
*Names and identifying features have been changed to protect client confidentiality