Susan's Story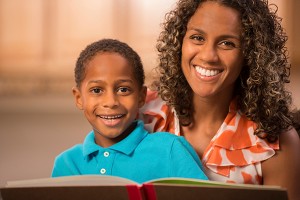 Susan's Story
For many families in poverty, the path to self-sufficiency and stability can be long and arduous. Even when individuals are qualified for jobs and are very motivated to work, one event or circumstance could derail those efforts and lead to much larger problems, including homelessness.
In San Mateo County, some of those families who have fallen on hard times are now being supported by the Family Stabilization Team (FST), a collaborative effort between San Mateo County Human Services Agency/CalWorks and StarVista. These families receive aid from CalWorks, a state program that provides financial support, job training, and job placement assistance. The Family Stabilization Team steps in when the adults in the family face obstacles to employment, such as domestic violence, homelessness, and mental health needs.
The story of Susan, a single mother, illustrates how the FST supported her to help her overcome great challenges while working towards achieving financial self-sufficiency and building a bright future for her family.
Susan was initially referred to StarVista's Family Stabilization Team for housing resource needs. Following a thorough family assessment, we discovered that Susan also had a history of homelessness, domestic violence, and substance abuse.
At the time of her referral, Susan and her 6 year old son were living with her grandfather but, due to an unhealthy environment, needed to move out.  With no place to go, Susan and her son were essentially homeless, couch surfing at the homes of friends and relatives.
Susan's FST case manager provided her with a list of affordable housing options and offered support in completing rental applications, and connected her with StarVista's partners at HIP Housing to see if she would be eligible for subsidized rent and support services. With the help of HIP Housing and her StarVista FST case manager, Susan will finally be able to move to a place she can call home.  She will continue to receive support and resources that will allow her to stay in school and work towards obtaining a degree in Social Work.
The Family Stabilization Team helps clients obtain counseling for parents, emergency shelter, housing, childcare, and legal aid, as well as support for victims of domestic violence and those who have substance abuse or mental health related needs.  By working together with families to remove these barriers, the goal of the program is to help parents obtain and maintain employment so their families can truly thrive.
*Names and identifying features have been changed to protect client confidentiality